Cal Poly Pomona Team Advances Innovative Energy Storage Research Project
September 13, 2022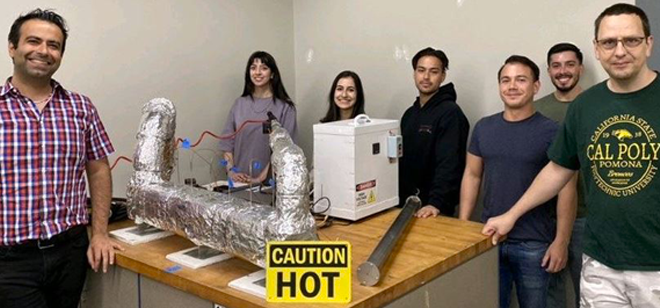 A team of engineering students and faculty at Cal Poly Pomona are progressing on research and development of a low-cost energy storage system using biproducts of desalination, an innovative project funded by Southern California Gas Company's Climate Champions program that has the potential to enhance the availability of clean and sustainable power in California.
The project could be a solution to environmental and economic challenges the desalination industry is facing in concentrate management while scaling up a low-cost energy storage solution to pair with an increase in intermittent renewable energy generated through solar and wind. The project is an example of the university's learn-by-doing approach and commitment to environmental responsibility for which the polytechnic university is known.
During the desalination process, minerals (including salt) are removed from a target substance, such as desalination concentrate. The project will repurpose the collected salt to store thermal energy. Solar-thermal power plants are among potential beneficiaries of the technology.
"Our students are developing a demonstration of the thermal storage concept," says Dr. Reza Baghaei Lakeh, project leader and associate professor in the Department of Mechanical Engineering in the College of Engineering. "At this point, they've optimized the lab-scale demo and will continue testing over the next few months."
Composed of graduate and undergraduate students — including several military veterans supported by Veterans to Energy Careers — the student team will grow to as many as 20 members. They will design, fabricate and conduct a field test during a demonstration of the proposed thermal storage system in Brawley, California.
Based on positive feedback from the research and industry community, Dr. Lakeh and his students have formed an early-stage startup that supports the student efforts at Cal Poly Pomona while focusing on scaling up the technology to a level visible to investors. They have filed a provisional patent and secured funding to perform a pilot demo in Brawley, California, inside the CalEnergy Geothermal Powerplant in collaboration with Sephton Water Technologies Inc., Santa Clara University and Townson University in Maryland.
The potential impact of the technology is significant. The product could potentially help reduce the cost of energy storage for solar-thermal power plants, provide power generation shifting – which involves increasing use of clean natural gas and renewable energy while reducing use of relatively dirty and expensive coal-fired power plants -- and dispatchability (the availability of electricity on demand) for geothermal power plants. It could also help any industry that requires process heat, which is the application of heat during industrial processes, such as the making of steel, paper, and glass.
"I'm enjoying the collaborative environment," says George Lockwood, a junior in mechanical engineering and a Marine Corps veteran, who is interested in the sustainable energy industry. "I have the opportunity to learn from students who have diverse background knowledge and experience, while simultaneously making new connections. I'm gaining valuable experience I can talk about in future job interviews."
The Cal Poly Pomona team will continue its lab work and use the experience to design the pilot demo, scheduled to start in August and continue in 2023. The team also plans to publish results in international conferences to spread awareness about low-cost and durable energy storage systems. This could be an especially meaningful pathway for California, which is targeting 100 percent renewable energy for its power grid by 2045.