A Course on Sustainability
August 10, 2022
Through funding from SoCal Gas, C-CAP Los Angeles created a new course on sustainability called Waste Not. The 28 students participating in this program have been learning about the many facets of sustainability, in conjunction with our longstanding summer job training program, giving them yet another avenue to explore in their studies and work.
In addition to composting, zero waste recipes and cooking, and fruit, vegetable and herb gardens, each student received a produce storage bag, courtesy of SoCal Gas, which extends the usability of fresh herbs and vegetables. It's one tangible way we're showing students how to practice sustainability in their everyday lives.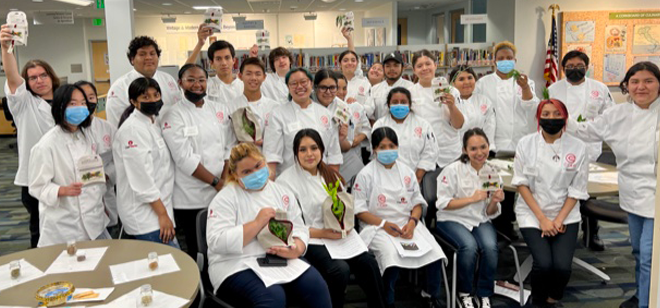 We're also talking to students on how to be sustainable in the kitchen. In June, students took a field trip to the Santa Monica Farmers Market where they met with chefs Sherry Yard, Matthew Biancaniello, Clemence Gossett, Nina Angelo and Rafael Perezchica, a C-CAP alum who now works for Chefs Warehouse. Most of the students had never been to a farmers market before, and among the many insights and impressions they shared, one was the difference in quality of taste between market produce–where they could actually meet the farmers who'd grown and transported the goods–and store-bought. Though they'd all eaten strawberries before, one student said it was their first time truly tasting one.
The chefs imparted how vital farmers are to their work–having access to quality food that supports the local economy; and that building relationships with farmers is an essential part of being a good steward of the community and a good chef.
The students also learned the value of "shopping around." As part of the trip, they each received a small stipend to purchase goods from the market. The instinct, for some, was to buy the first thing they saw; but going around to various vendors helped sharpen their ability to select the best product. In addition, a few students had planned to buy cut basil until they realized they could buy a plant and keep it at home, in their kitchens or gardens, underscoring one of the key ideas we've been discussing.
We hope that as we continue this program, more students will learn how to contribute to and improve food systems in their communities and the world at-large, with ideas and learning gained through these experiences.