Late 2022 LA Compost Events and Expansions
June 14, 2023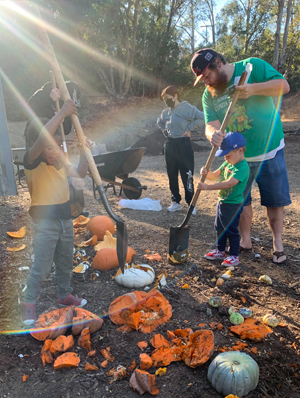 In the last half of 2022, LA Compost was busy expanding its composting programs and services alongside its decentralized network of partners! LA Compost's community partners are the drivers of localized climate resilience in Los Angeles. Utilizing their positionality and lived experience within Los Angeles' highest need communities, our partner organizations expertly work to support residents through grassroots urban agriculture initiatives, soil remediation and testing projects, and environmental education. 
To celebrate the fall season while promoting food waste reduction and composting education, LA Compost hosted its annual Pumpkin Smash event with multiple partner sites across LA City Council Districts (CDs) and County Supervisorial Districts (SDs). Pumpkin Smash events took place at Griffith Park (CD 4), George Washington Carver Middle School Garden (CD 8), Safe Place for Youth (SPY) Community Garden (CD 11), and Cottonwood Urban Farm (CD 6).
Additionally, LA Compost made improvements to its Regional Compost Hub production and distribution efforts. In collaboration with its partner sites, LA Compost staff worked to develop its medium scale composting processes and protocols at Griffith Park (CD 4), Cottonwood Urban Farm (CD 6), Hillside Congregational Church (CD 14), Earthworks Community Farm (SD 1) and Grow Good Urban Farm (SD 4).  This past November, LA Compost welcomed its newest Regional Compost Hub and partner, Good Earth Community Garden (CD 10)!