Signature Farm Field Trip
May 25, 2022
Last winter, The Ecology Center was honored to be one of ten recipients of a SoCal Climate Champions grant, awarded to nonprofits that take on our climate crisis with creative, community-centered solutions.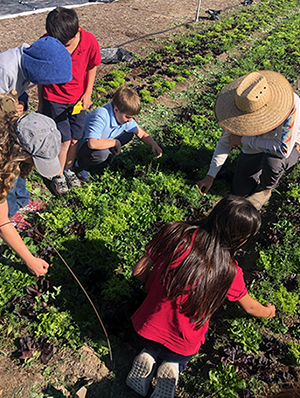 Thanks to their generosity, we are able to offer scholarships for our signature farm field trip that helps children build relationship with the land and learn skills for ecological stewardship and self-sufficiency. One of our first field trips was in partnership with a local organization that supports families experiencing homelessness.
During this field trip, 8 children visited our 28-acre Regenerative Organic Certified™ farm to learn about seed, soil health, and compost. They got to explore our model worm bin, where they observed the good work of this prized farmer's friend and learned how worms break down food waste into compost. Next, they joined one of our farmers in the Market Garden to help cultivate a lettuce bed, before spending some time with our chickens to learn how they support soil health by giving nutrients back to the soil. Along the way, the children got to taste plenty of fresh fruits and veggies from the farm, forming a deeper connection to the land and the delicious nourishment it provides. 
We are grateful to our partners at SoCalGas for making this special opportunity possible. By collaborating for the good of the community, we lay the groundwork for an abundant future for all.