Skyland Ranch Environmental Education
June 28, 2022
Girl Scouts of San Gorgonio Council welcomed eighty male and female students from Riverside and San Bernardino counties to our Skyland Ranch Camp this spring to experience the U.S. Bank Environmental Learning Lab at its grand opening. This fun filled day provided a range of educational experiences enhanced with fun outdoor activities. Funding received from SoCal Gas enabled us to enhance the Learning Lab with STEM and environmental hands-on learning activities.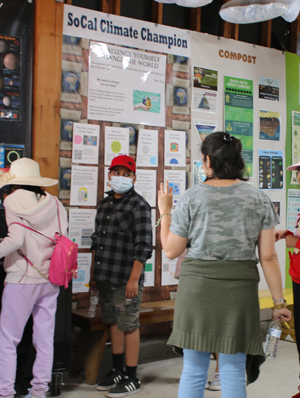 Students utilized digital handheld microscopes to view specimens and witnessed the water cycle in action.  At a specific station centered around climate change students learned how hydrology and wind power generation plays an increasingly important role in the way we power our world, increasing education about alternative clean and sustainable energy. Activities are on mobile stations that allow programming to occur inside the learning lab or in the great outdoors.
Many of the students experienced their first time in the mountains and with funding received we were able to overcome the transportation barrier that exists in getting students to natural and educational green spaces. Students got their steps in on nature hikes, learned about the native ecosystem, and what actions they can take to reduce their own carbon footprint.
The program is designed to be a resource for the schools, and we witnessed teachers actively engage in our curriculum-based programming alongside their students. Teachers and school administrators present expressed high interest returning in the upcoming school year.  
Alongside our educational and community partners we are actively preparing the next generation to be better equipped to address climate change and flourish in a community dedicated to clean and efficient energy.