Temescal Ranch
August 23, 2022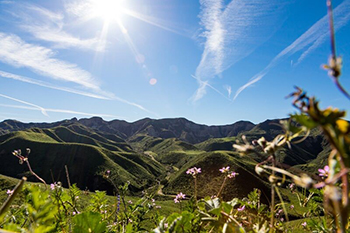 The Trust for Public Land is excited to share that we have permanently protected the 6,195-acre Temescal Ranch — formerly the largest privately owned natural area in Los Angeles County. The property connects to more than 800,000 acres of public lands along the Los Angeles and Los Padres National Forests. This project restores critical habitat across Southern California's Transverse Mountain Range and will improve air quality and capture CO2 from the air, sequestering it in plants, soils, and sediments. This vital land conservation work will also strengthen local communities across Southern California by increasing resilience to wildfires and other climate threats. Already, we have witnessed the return of California condors, mountain lions, and various native plant species to the area!
Protection of Temescal Ranch will create a substantial public open space for recreation and conservation that is less than an hour's drive from Downtown LA. The remnant of a Mexican land grant, the ranch has been relatively untouched for more than a century. Its more than six thousand acres, or ten square miles, contain a rich tapestry of landscapes: rolling chaparral, oak woodlands, and one of the most extensive stands of coastal sage scrub and chaparral in Southern California. These vast and varied lands sustain more than thirty-five sensitive species, from iconic California condors that soar overhead, to federally listed Southern California steelhead that spawn downstream. Two streams flowing through the ranch sustain wildlife and feed a reservoir important to local farms and communities. Lying at the heart of two national forests, four mountain ranges, and other public lands, the property promises extraordinary connectivity for wildlife and outdoor enthusiasts. The twenty miles of fire roads crisscrossing the site will also serve as trails for hikers, bikers, and other outdoor enthusiasts.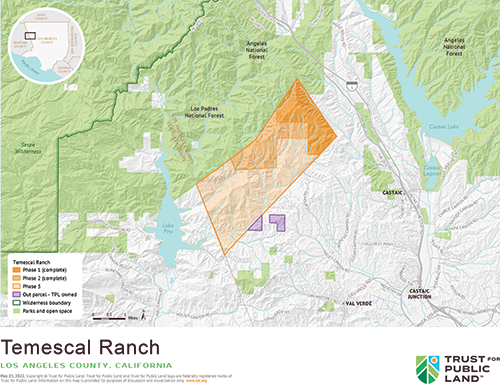 The preservation of Temescal Ranch also advances California's 30x30 initiative, which seeks to protect 30 percent of California's land and coastal waters by 2030 to fight climate change and thwart biodiversity loss. The goal of the initiative is to protect the state's biodiversity and become more resilient to the impacts of climate change.
The Trust for Public Land is grateful to SoCalGas for their support of our Transverse Range Climate Conservation Program through their SoCal Climate Champions grant!